Plastic and Reconstructive Surgery Virtual Curriculum
The Plastic and Reconstructive Surgery Virtual Curriculum is a virtual course for medical students with curated learning modules and readings that cover main topics within plastic surgery. The course was designed and developed by Abra Shen, Dr. Bernard Lee, and Dr. Samuel Lin at Beth Israel Deaconess Medical Center and Harvard Medical School.
The goals of the curriculum are to:
Provide a structured curriculum for medical students to effectively learn about the field of plastic and reconstructive surgery virtually, especially while rotations and other learning opportunities are on hold.
Curate an organized list of resources that cover a wide variety of topics that are accessible and useful to medical students with different learning styles.
Build a community among students interested in the field.
We piloted the course with 16 medical students in May 2020. The pilot included small case discussion groups for students to talk through clinical cases together, solidify and apply knowledge, and get to know each other. We also held Q&A sessions and one-on-one on advising meetings for students to receive mentorship from our faculty advisors, Dr. Lee and Dr. Lin.
In June 2020, the course officially launched with participation from over 275 medical students from 18 different countries.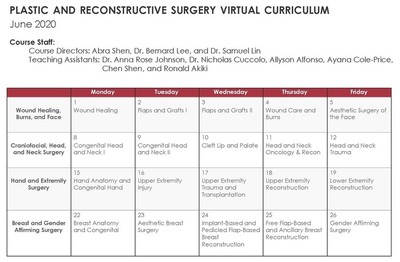 To help students practice their surgical skills, we offered suturing workshops. Students were instructed to create box trainers from supplies at home to allow visualization of their techniques.
The course was offered again in the Spring of 2021 to over 170 MS3s and MS4s from around the world. The curriculum was updated to be spread over 14 weeks so students could participate alongside medical school courses and rotations. Small group case discussions remained a key component of the course, with groups either facilitated by Teaching Assistants or led by participants on rotating basis.
The PRSVC Speaker Series was introduced. Each week, residents, fellows, and attendings gave talks focused on interesting cases they've performed related to the PRSVC course content. We hoped for the series to provide opportunities for speakers to showcase some of the great cases they see at their program and for students to connect with trainees and faculty across the country.

Registration for PRSVC 2022 is open!
Register here: www.tinyurl.com/prsvc2022reg